Karma Six12 – 6/12 watts of parallel single-ended class A beauty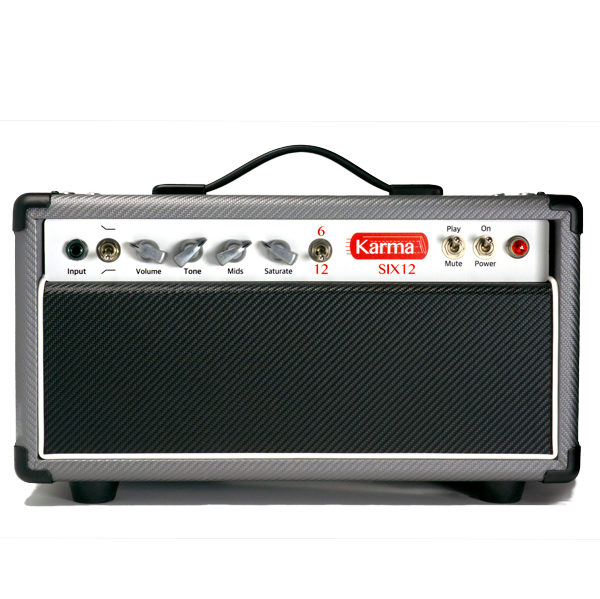 • 6 watts from a single 6V6, or switch in a 2nd 6V6 for 12 watts
• The perfect amp for small gigs and recording
• Available as head or 1×12″ combo
• Beautiful cleans make for an amazing pedal platform
• Simple control set – easily go from clean tones with scooped mids to saturated grunge
• Hand wired in the US using the highest quality parts
• Heavy gauge, one piece, powder coated aluminum chassis
• Turret board and point-to-point wiring
• Custom wound Heyboer transformers and choke
• Extra power supply filtering for ultra low noise
• Solid state rectifier for tight low end
"a great grab and go amp, perfect pedal platform, and sweet spots everywhere!" – RJ Ronquillo
Listen to the Karma SIX12 ->
Les Paul with MTN-10 drive
Tele with MTN-10 set as clean boost
• Tubes: 1 x 12AY7 and 2 x 6V6gt
• Controls:
• Negative feedback switch (rear panel) – up for cleanest sound, down for raw. Negative feedback is minimal to preserve the best tone and feel.
• Low cut switch- helps keep bottom end tight
• Volume
• Tone – low loss circuit as in our Karma 20T.  Dial in the perfect amount of high end
• Mids – from sweet blackface scoop at minimum to aggressive in-your-face mid growl at max
• Saturate – controls the gain "pushing" the power tubes.  Cleanest at minimum, nasty when maxed
• Six/12 switch- engages the 2nd power tube for volume boost without changing the tone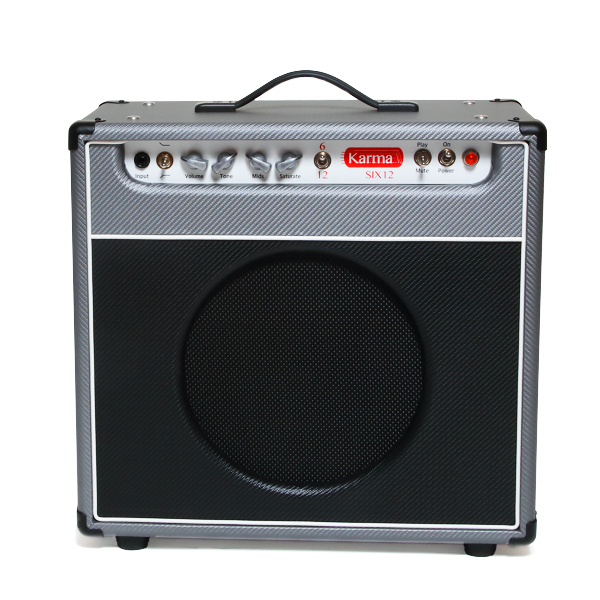 Listen to more SIX12 sound examples below…
Strat with natural amp drive from SIX12
Karma SIX12 is available as a head cab or combo and is built to order.
Please allow 4-5 weeks for delivery.
The idea for this amp came after playing some gigs in the wine country of Sonoma County, Ca., my current home.  My '65 Deluxe Reverb was just too loud for the kind of gigs and venues many of us play now.  I needed a simple, light, lower powered amp that could do some nice pedal friendly cleans but also ramp up to some killer tube based drive.
The Karma SIX12 is a true Class A, parallel single-ended amp, available as either a head or combo.  The control set is simple and straight forward – good for overall shaping – progressing logically from clean to driven.
For the cleanest tones, turn Negative Feedback (rear panel) ON, low cut switch DOWN, Volume 9-11 o'clock, Tone as needed to shape the highs, Mids and Saturate at minimum.
From there, dirty things up by any combination of Negative Feedback OFF, low cut switch UP, increased Volume, Mids, and Saturate.
Putting a second 6V6 power tube in parallel with the first (switched to 12) yields a slight boost in volume without affecting tone – perfect for later in the night when the band volume comes up.